Solar power connection
Introduction of your own solar power plant enables you to produce your own electricity. The introduction of your own plant requires a permit from the local electricity network company. Please make sure that the electrical contractor who installed your plant submits a notification of your installation to us. No fee is charged for the notification.
Basic information about microgeneration
All plants with production under 1,000 kVA are considered to be microgeneration plants. Electricity distribution fees of production plants larger than this are determined in accordance with a separate of production distribution price list.
The microgeneration distribution fees concern microgeneration plants that are connected to the low-voltage network (0.4 kV) and medium-voltage network (10 or 20 kV).
Please remember to report your microgeneration to us.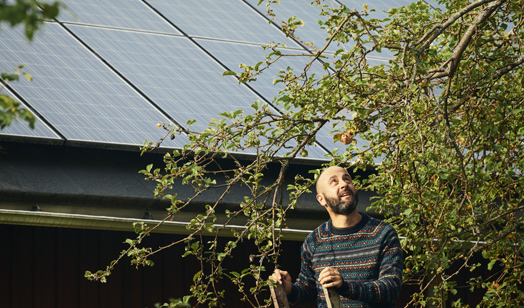 How to proceed?
Before purchasing microgeneration equipment, check with the building supervision authority whether you need a building and action permit.
A professional electrical contractor with an electrical installation permit is responsible for the design, dimensioning and installation of your microgeneration equipment. The electrical contractor must pay attention to the network company's instructions and requirements for the equipment.
Your electrical contractor submits the mandatory notification to the network company. In practice, your electrical contractor completes and signs a microgeneration basic information form (or the basic information form + commissioning inspection report for equipment larger than 50 KVA) and sends it through the contact form at least two weeks before the planned commissioning. Note. Please select "Microgeneration and compensation calculation" as the subject of the contact form.
Helen Electricity Network will process the notification and grant permission for connecting the microgeneration equipment to the electricity network.
Please remember to conclude an electricity purchase contract for the electricity to be fed to the electricity network with the electricity supplier. We will provide you with the location number together with the connection permit.